The initial goal for Luci was to build a set of songs meant for performance as a kind of ecstatic outburst. The sensibility of the project was about open and honest cultural and universal bewilderment, desire, overwhelm, tangled images of self and American filth, sexuality, aggression, outsider curiosity, and humor. The lyrics were crafted streams-of-consciousness written often for their sound and rhythmic qualities as much as their more explicit meaning. I made the music in a style that invited dance as well as built theatrical arcs within each song, and pulled from my prior work in sound design for the album's production.

The live performance of Luci took place first at hTh National Theatre in Montpellier, France in 2017 as a commissioned performance for their series Poesie Attack, which was followed by four shows at clubs in the South of France. For the hTh show, I additionally translated the entirety of the album's lyrics into French and they became subtitles presented in a large projected video. In December 2018, presenting material from the debut album as well as new material, I performed this project at 19 venues throughout France and Switzerland. The most recent tour took place over three weeks in February 2020 through venues in France and Belgium.

The music of Luci has provided a stage environment in which I've been able to push the masculine and feminine sensibilities in my movement and presence to their most extreme. It's been exciting to me that the music in combination with my style of performance has shifted the spaces into environments in which a decidedly queer fluidity is a natural element.

These shows were explorations of new ways of inhabiting a body in space with others; ways I hope are energetically generous, unexpected, and playful. There is an element to Luci of the fool.




The most important elements in my drawings are growth and emergent forms. To allow for this kind of motion, I practice automatic action for many hours in order to give myself unexpected marks to which I can then respond and discover what forms might grow from them.

The goal is to engage in a style of infinite drawing, with each being a complete piece only by the nature of the page's edges. Otherwise, the growth would be capable of continuing.






Private Commission

Graphite on Canson Edition Paper, 16"x29"

2020
Untitled_01 (1 of 10)
Graphite Pencil on Canson Edition Paper, 10in x 15in
2020
Private Commission
Graphite Pencil on Canson Edition Paper, 10in x 15in
2020
"Wall of Death"
Private Commission
Pencil on Paper, 30"x22"
2019
"In The Beginning"
Ballpoint Pen on Newsprint
2019
Brush Pen
2017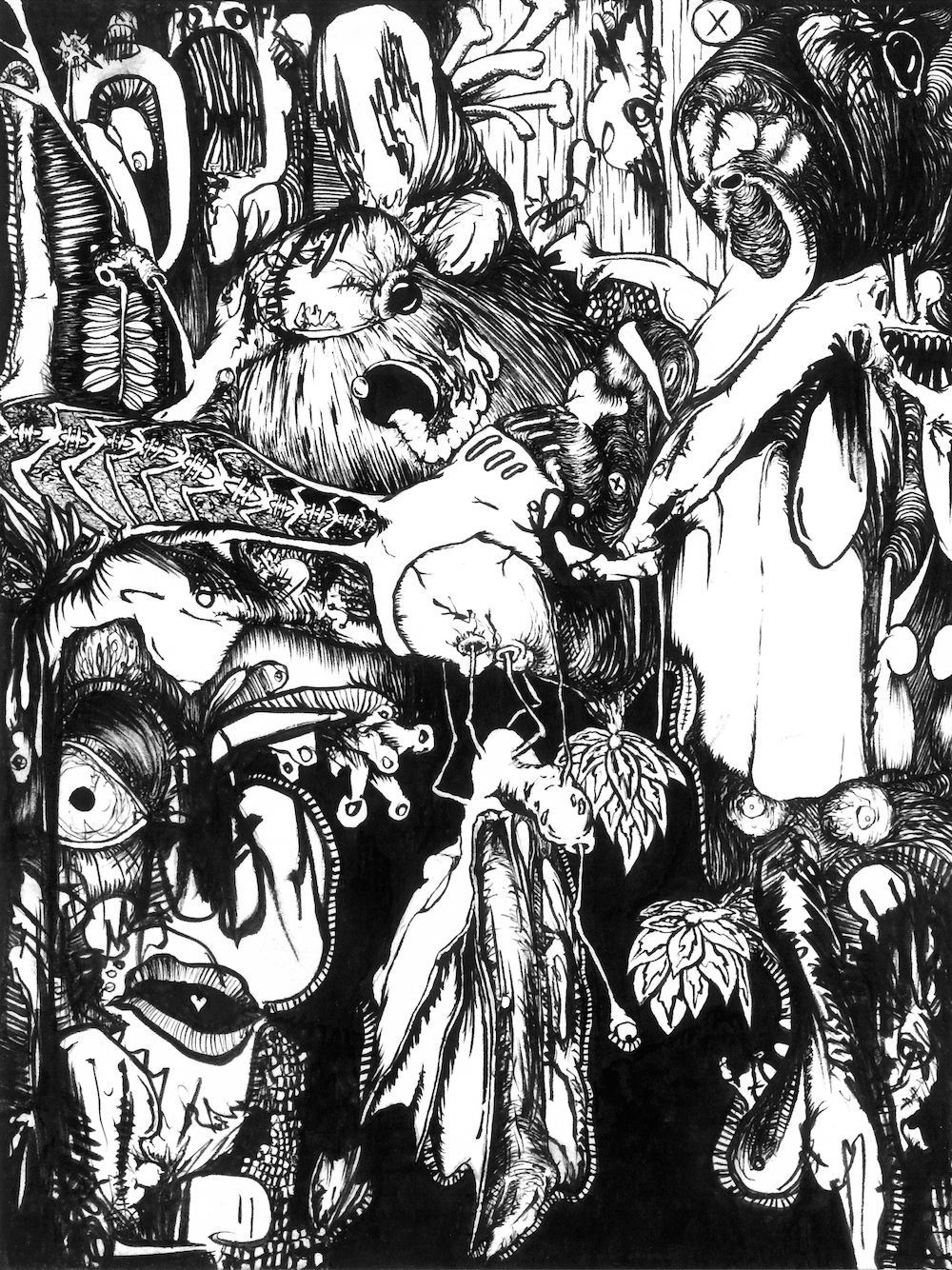 The proposition for this show—created and performed in the warehouse theater-space of Buntport Theater Company in Denver, CO— was to build a playground and to then invite actors and dancers to work with me in exploring it, eventually building the narrative out of this director-performer dialogue.
Spending the first month exclusively exploring the actual materials of the constructed and given environment, we developed physical vocabularies and a spacial knowledge through structured movement improvisations.

The elements of the set—the playground—were conceived from imagery in Ovid's Metamorphoses filtered through contemporary visual research, and it was constructed out of entirely used and found materials.

The result was a multi-layered narrative which was performed 360 degrees around the audience.




Books





33 Plays
Basil Kincaid Documentary Video



In April of 2018, I was invited to St. Louis by artist Basil Kincaid. He would be in the process of quilting his new collection of fine art quilts for an exhibition at a Chicago gallery, and his proposition to me was to spend the month at and around his St. Louis studio and community throughout the process, to film, and to figure out what form the resulting video work should take.

Throughout the month of conversation with Basil as well as his family—who were around during the initial stages of the process, and whose old clothes comprised the material for these particular works—I arrived at the idea of crafting the documentation as a home movie. Not only would this be in line with the stitched patchwork nature of Basil's art practice and how he talks about his family history with relation to quilting, but I also discovered that he had no home movies from his childhood or at all.